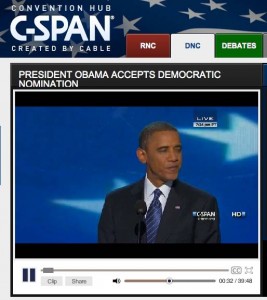 I like media that matches my political point of view as much as the next guy, but when there is an important event or speech going on, my preferred channel is C-SPAN.  And increasingly, I prefer to watch C-SPAN online through the network's excellent Web site.
So last night, I left the television set turned off, fired up the laptop, and got Obama's nomination acceptance speech playing on my screen. Beside it was running my Twitter feed full of real-time commentary about the speech from left, right and in-between.  But since the commentary is all in written form, it doesn't interrupt what I'm hearing.
The other big advantage is that I get to choose who my commentators are.  I happen to like seeing comments from people I disagree with as long as they take an intelligent approach.  With Twitter, I get to assemble my own panel of serious, snarky and humorous panelists.
And no one does a better job of just showing you an event than C-SPAN does.
(If you are keeping score, this is a great example of Truth 2 – There are no mainstream media.)