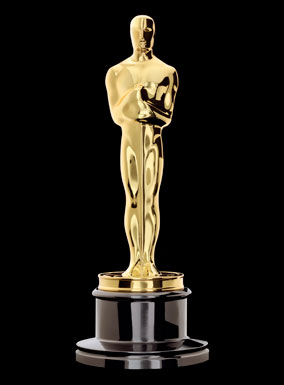 Today's guest post is from Charley Reed, who does public relations work of the University of Nebraska at Omaha.  He's also the guy I turn to when I need critical analysis of pop culture issues such as censorship and the show South Park, the status of video games as mass media, or the deeper meaning of Gangnam Style.
Sunday's 85th Academy Awards will no doubt be an entertaining spectacle, but how much do the awards really matter – I mean, really?
First, let's consider the announcing of nominated Oscar films… which is essentially done under the cover of darkness (literally) in Los Angeles at 5:30 a.m. local time. Look, I understand that the time is chosen because by 8:30 a.m. EST New Yorkers are stuck in traffic waiting to get to work and are a captive audience, but why does the announcement need to be made so early that half of the nominees haven't even woken up yet to hear the news? It just doesn't make sense. Seth McFarlane said it best "I don't know why don't do this at noon – the only people up this early are flying or having surgery." Understandably, that joke didn't get a great reception.
Look, if the Oscars are so important… why don't they handle announcements like everybody else. How many candidates do you see announcing their run for president that early?  How many press conferences do you see held that early? How many NCAA tournament selection shows happen that early? None – that's how many. What's even more frustrating is that there is so much the Academy could do with the selection show. Just think of all the pomp and circumstance that goes into a normal Sunday football schedule on ESPN – it'd be so easy for the Oscars to have a full hour preview during primetime with commentary, industry guests and a year-in-review recap. For heaven's sake, E! spends half of Oscar Sunday on Red Carpet coverage.
Speaking of the Red Carpet, if the Oscars are so important to the industry… why are people more concerned about what someone is wearing than the film they were in? Think about it… this is a night that is supposed to be celebrating the best in film and I can guarantee that the heavy-lifting done by this year's major nominees were done in sweatpants with a Big Gulp, not in a Christian Dior Couture strapless dress.
So let's take the opportunity to actually talk about the films themselves. The Oscars are important to them right? Well… no, not really. Sure, there will be a box-office bump for all of the films nominated but in a year where Avatar and Hurt Locker were both nominated for Best Picture… the winner earned $50 million and the runner up earned $2 billion.
Again, if the Oscars really mattered as a selection of the year's best in film, why is this year's presumed best picture winner, Argo, coming out on DVD the Tuesday before the ceremony? I mean, yeah, people will want to grab the film to see what all the fuss is about before the awards show, but it's still showing in movie theaters around the country for that very reason. Am I crazy for thinking that movies waiting until they actually WON something before releasing their film and all of its fancy packaging? Right now, the best Argo could do is have "Nominated for Seven Oscars" which doesn't quite have the same punch; on the other hand, considering Ben Affleck wasn't nominated for Best Director, I can't imagine he – or his production team – cares one way or the other.
And that's another thing that really strikes me as odd given how important the Oscars are supposed to be. Affleck's snub by the Academy is indicative of the tone-deaf nature and politicking of the Academy – sure it's nice to see some new faces nominated and getting attention, but when the same guy wins the Screen Actor's Guild, Golden Globes, Director's Guild, and BAFTA awards for Best Director, there is something really wrong here. But even if he was nominated, does it really matter? History shows that some of Hollywood's most successful films and stars have gone years or decades without a nomination or victory (I mean Martin Scorsese wins for an American adaptation of a Japanese crime drama and a kids film over Taxi Driver and Goodfellas? Really?).
The career trajectory of Ben Affleck is such that it's not a case of IF he will win an Oscar for direction, but WHEN- but even if he doesn't win one, he'll be in the company of Stanley Kubrick, Alfred Hitchcock, Orson Welles, Sidney Lumet, Sergio Leone, and Robert Altman – not bad at all.
Also consider how many films have been nominated for Best Picture, only to lose to a film that no one remembers except as "that film that beat ______ at the Oscars," which one could say about How Green Was My Valley (Citizen Kane), Ordinary People (Raging Bull), Dances with Wolves (Goodfellas), Shakespeare in Love (Saving Private Ryan), Crash (Brokeback Mountain), The Hurt Locker (Avatar) and a few others I am probably forgetting. [Editor's Note: Rocky (Network).] Some of the most critically acclaimed, popular movies that people return to over and over again today weren't even NOMINATED for Best Picture, including The Dark Knight, Fight Club, Psycho, Alien, and Vertigo, just to name a few.
Now that the Academy Awards has upped the limit of best picture nominees to ten, it's a lot easier to have a "nominated" film, including popular fare, like this year's Les Miserables and Django Unchained, even though they don't have a shot of actually winning the prize. However, the powerfulness of recent Best Picture winners has seemed incredibly lacking in the way of being memorable – for example, in 20 years, who is really going to remember The Artist or The King's Speech compared to films like Inception, The Social Network, The Descendents and Moneyball? Chances are – not many. In fact, this year might be the first year since LOTR: Return of the King won that a film that is both incredibly popular and critically acclaimed – with staying power – will win Best Picture.
So this gets us back to the original question, how much to the Academy Awards matter? Well, on the surface … not much. That said, if the Oscars do have something to offer it is a shared experience during a time when they are becoming fewer and more far between. When you look at it that way… Sunday's awards, as trivial as the ceremony might seem or as unfair as the victories might be, we will be watching it together, arguing about it together, and laughing about it together. It shouldn't be surprising, actually, since that's what all movies do – and have done since their early years at the turn of the 20th century. So, as the Academy Awards celebrates its 85th year with a focus on the films of 2012, I think it is important focus on what cinema has offered this country over the last century:  entertainment, escape, and community.
So, if I have to answer my own question … how much do the awards matter, really?  Actually… quite a bit. Really.