There is an old quote from children's television host Fred Rogers (Mr. Rogers) that started spreading virally following the Newtown massacre in December.  It goes like this:
"When I was a boy and I would see scary things in the news, my mother would say to me, "Look for the helpers. You will always find people who are helping." To this day, especially in times of "disaster," I remember my mother's words and I am always comforted by realizing that there are still so many helpers – so many caring people in this world."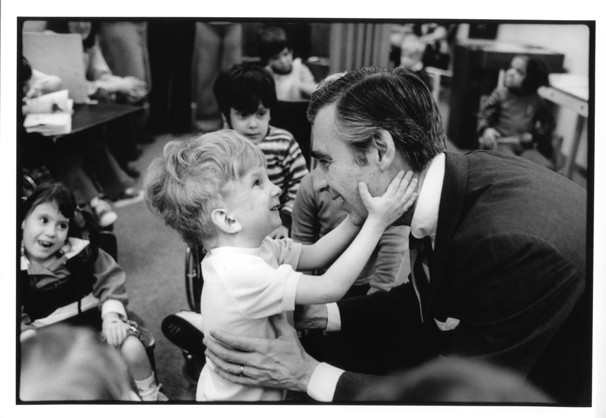 At a time when a lot of us were looking for words of comfort when something utterly un-understandable was going on, the words of Mr Rogers spoke to us. (I passed the quote on at the time through my Tumblr blog.) The words of Mr. Rogers were often paired with a photo taken by Jim Judkis, the man who for years was the official photographer for Mr. Roger's Neighborhood. (I learned this part of the story by reading an article by Washington Post reporter Maura Judkis, Jim's daughter.)
This week, following the Boston Marathon bombings, the quote resurfaced and may have been been even more quoted than it was during the Newtown aftermath.
Slate had a good history of the "look for the helpers" story on Tuesday.  Rogers first published his mother's advice back in 1983 in a book called Mr. Rogers Talks With Parents. He has repeated the story multiple times, and quotes and video of him telling this story show up after each American tragedy.
I've seen the quote show up on multiple photos, but perhaps the best portrayal was on this cartoon by Randy Bish of the Pittsburgh Tribune Review: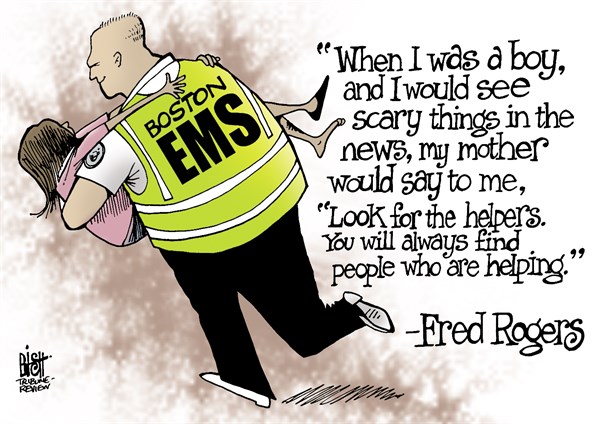 Check out the amazing collection of Boston Marathon cartoons at Cagle.com.