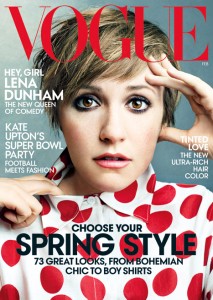 The level of Photoshopping going on at Fashion/Beauty/Lifestyle magazines has been an ongoing controversy, with performers such as Adele, Kelly Clarkson and Kate Winslet being made almost unrecognizable as photo editors try to make the curvy stars' bodies comply with fashion magazine standards of beauty.
So it should be no surprise when Lena Dunham, star of HBO's series Girls, posed for Vogue that the question would start being raised as to how authentic her images were.  Dunham, in case you've missed the story, is famous for being naked in Girls – a lot — and that her tattooed body is celebrated/criticized for being an alternative to conventional standards of Hollywood beauty.
So… when the Dunham issue of Vogue came out, the blog Jezebel, which has a lot to say on Photoshopping, offered $10,000 to anyone who would supply them with the original, unedited images of Dunham so people could see how Dunham's body was manipulated.
Unsurprisingly, it didn't take long to get someone to supply Jezebel with the images.  Interestingly enough, while the photos themselves were highly manipulated (i.e. entirely new backgrounds added) the New York Times points out that there was surprisingly little done to Dunham herself.
Dunham told Slate following the publication of the original images that she had no problem with what Vogue had done with the photos, and that she understands and appreciates that difference between reality and what is published in a fashion magazine:
A fashion magazine is like a beautiful fantasy. Vogue isn't the place that we go to look at realistic women, Vogue is the place that we go to look at beautiful clothes and fancy places and escapism and so I feel like if the story reflects me and I happen to be wearing a beautiful Prada dress and surrounded by beautiful men and dogs, what's the problem? If they want to see what I really look like go watch the show that I make every single week.
What do you think? Is Jezebel standing up for women by publishing the unedited photos of Dunham?  Or are they, as some claim, bullying Dunham, who has made her career of flouting conventionality?
(Oh, and by the way, the photos of Dunham are by famed photog Annie Leibovitz, because… of course they are.)